Phew, we survived 2021 too. In so many ways, it has been a struggle. A struggle for all of us, all over the world, a struggle to survive, to maintain our patience and compassion for fellow humans, and for ourselves. And I've found it a bit of a struggle to blog here. Maybe I've said all there is to say about No Kidding topics? As the years have passed, the grief of not having children plays a smaller and smaller part in my life, even though ageing without children looms and requires more thought space too. So maybe the focus here is changing too. There are still things to say though. Still conversations that surprise me, either in a bad or a good way! So I intend sticking around in 2022. By now, it is just what I do!

So, back to the blog. I wrote 52 posts in 2021, seven fewer than in 2020. That's quite a drop, but shows there is still food for thought! It wasn't a stellar year for No Kidding in NZ though - no projects as I've done in previous years, or major new insights. But as I review my blogs from the year, I see some themes:
I talked about gratitude, the little moments, finding beauty in unexpected moments, all of which help us cope and enjoy our lives:
And I wrote a number of posts where I was able to find shared experiences in other groups or individuals outside our No Kidding community. Whilst it is easy to focus on our isolation from the parented sectors of society, my experiences have also made me feel even more connected in other ways, which is a gift.
Shared experiences in beauty and grief
Shared experiences (again)
We're not so different

I continued to talk about the way we think and our attitudes towards not having children, our recovery and healing from that, and our approaches to life, in:

Hope
Accurate Thinking
Inaccurate Thinking
Rising from the Ashes
The Road to Ithaka
Grief, Attitude, and Hope
I touched on a few issues around Ageing without Children, and also similarities between infertility/childlessness and the pandemic, was very lazy when I was travelling in May and reposted a few of my thoughts. And I finished the year looking back at posts I'd written before, and looking way back to the days of my losses and infertility, beginning to walk this No Kidding path. In reviewing previous posts, it always strikes me how important it is to reread posts after all the comments, because they add so much to the conversation, to our collective wisdom, and to our sense of community. I am so glad you are all part of No Kidding in NZ.

Which brings me to the fact that the first week of January is blog delurking week. So, do leave a quick hello in the comments (I'm fine with anonymous comments if you're shy) or send a quick email to me at nokiddinginnz at gmail dot com. I love to know who is reading here.
I wish you all a safe and happy 2022!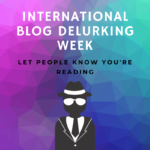 This is an annual nod to
Mel
, who used to run the Crème de la Crème, where we would list our favourite post of the year. It always provided inspiring reading. So even though it doesn't happen officially now, I hope that you too will list your favourite posts from your own blogs, on your blogs, for us to enjoy again (or for the first time).