I'm starting this review with a laugh. Because my 2019 review blogpost began with the comment that "survival is a feat in itself!" Little did I know what 2020 would bring us all! The sentiment is even more important after this last year, don't you think? If you got through 2020 safe and relatively sane, I think it is an amazing achievement in many parts of the world. And, as I noted in that 2019 post, it is "worth celebrating. Remember that!"

Over 2020, I wrote 59 posts, one less than 2019. At least I'm consistent! Still thinking and writing about No Kidding issues, thoughts, and women.

2020 saw me establish my No Kidding in NZ Instagram account @nokiddinginnz It's really just an account to provide some text and links to a new blogpost. But even keeping up with that has been hard recently, so I resolve to be more diligent this year. In particular to try to keep up with the many blogs and accounts that are present on Insta. I know I'll fail at that – but maybe I'll just try harder?

I kicked off the year with my 2020 Healing Project, going through the things that helped me (or would have helped if I had known at the time) get through the period of time from approaching a No Kidding life to fully embracing it. It was an interesting exercise – and I hope it helped someone. It helped me, because it took me through the first months of the pandemic when everything was so unfamiliar to us all, and our own very strict lockdown here in NZ back in April and May. The reminders to feel joy when I can, to accept, to connect, to experience, and to celebrate were very important, and helped make the lockdown easier for me. What we learn in difficult times can help us in other difficult times. That's something I am very grateful for.
The No Kidding in NZ 2020 Healing Project
When Our World Shifts beneath Us
I did a lot of thinking about ageing and death this year, probably because a preoccupation for the year was my father-in-law, his decline, unavoidable move from the house he had lived in since 1962, and ultimately his death in September. Not to mention dealing with his affairs. Of course, we and inevitably wondering how it will be for us when we are old and infirm, and how to handle our affairs for when we are gone. So I wrote a few posts about end of life issues, or mentioned them in my miscellaneous posts. I'm hoping I can be more cheerful in 2021!


Cleaning up my stuff (and a relevant follow-up on A Separate Life here)
As always, I am grateful for my current connections. Connection is what helps, ultimately, and you have all helped me in 2020.
Being grateful for No Kidding friends
So, as Mel has reminded me yet again, the first week of January is blog delurking week. So do leave a quick hello in the comments (I'm fine with anonymous comments if you're shy) or send a quick email to me at nokiddinginnz at gmail dot com. I love to know who is reading.

Thanks for being here. I wish you all a safe and happy 2021!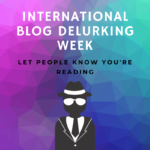 This is an annual nod to Mel, who used to run the Crème de la Crème, where we would list our favourite post of the year. It always provided inspiring reading. So even though it doesn't happen officially now, I hope that you too will list your favourite posts from your own blogs, on your blogs, for us to enjoy again (or for the first time).